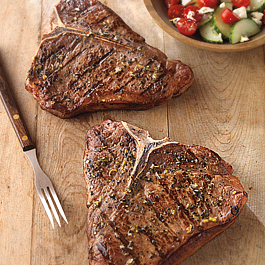 Courtesy of The Beef Checkoff
Servings: 4
Prep Time: 20 Min.
Cook Time: 19 Min.
* 2 beef T-Bone or Porterhouse steaks, cut 1-in. thick (about 1 lb. each)
* 1 medium lemon
* 1 Tbsp. Greek seasoning (or substitute a mixture of dried oregano leaves, garlic salt, and onion powder)
* 1 medium cucumber, cut lengthwise in half, then crosswise into thin slices (about 2 c.)
* 2 c. halved grape tomatoes
* 1/3 c. crumbled feta cheese
* salt and pepper
1. Grate peel and squeeze 1 Tbsp. juice from lemon. Combine Greek seasoning and lemon peel. Reserve 2 tsp. mixture for salad. Press remaining mixture evenly onto beef steaks.
2. Place steaks on grid over medium, ash-covered coals. Grill, covered, 11-16 min. (over medium heat on preheated gas grill, 15-19 min.) for medium rare (145°F) to medium (160°F) doneness, turning occasionally.
3. Meanwhile, combine reserved 2 tsp. seasoning mixture, lemon juice, cucumber, tomatoes and cheese in medium bowl, stirring to combine. Season with salt and pepper, as desired.
4. Remove bones; carve steaks into slices. Season with salt, as desired. Serve beef with cucumber and tomato salad.

* To broil, place steaks on rack in broiler pan so surface of beef is 3-4 inches from heat. Broil 15-20 min. for medium rare to medium doneness, turning once

* Recipe courtesy of The Beef Checkoff.
Calories: 256;
Total Fat: 12g;
Saturated Fat: 5g;
Cholesterol: 70mg;
Total Carbs: 5g;
Fiber: 2g;
Protein: 31g;
Sodium: 219mg;