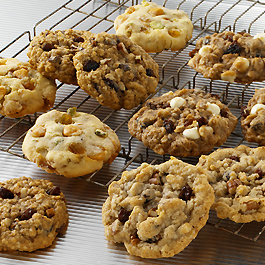 Courtesy of California Raisin Marketing Board
Servings: 42
Prep Time: 30 Min.
Cook Time: 9 Min.
Marinate: 8 Hr.
* 1 c. California raisins, chopped
* 1/2 c. bourbon

Pecan Pralines
* 1/2 c. granulated sugar
* 1/4 c. (2 oz.) water
* 1 c. pecan pieces
* 1 3/4 c. all-purpose flour
* 3/4 tsp. baking soda
* 3/4 tsp. baking powder
* 1/2 tsp. salt
* 1/2 tsp. ground cinnamon
* 1/2 tsp. ground nutmeg
* 1 c. (2 sticks, 8 oz.) unsalted butter, softened
* 1 c. dark brown sugar, packed
* 1/2 c. granulated sugar
* 2 eggs
* 3 tsp. vanilla
* 2 3/4 c. rolled oats
1. Combine raisins and bourbon in small bowl; cover and steep overnight. Drain and reserve raisins.
2. Line a baking sheet with wax paper; set aside. Measure sugar and water into saucepan and cook until dark amber color. Add pecans and stir to coat well. Pour onto cookie sheet lined with wax paper and allow to stand until hard. Then, break into small pieces; place in food processor and pulse several times until pieces are semi-fine crumbs. Set aside.
3. Preheat oven to 350°F. Butter baking sheets; set aside.
4. In large mixing bowl, mix dry ingredients together thoroughly. Combine butter, sugars, eggs and vanilla in mixer bowl and beat on medium speed until well blended. Add dry ingredients and mix until well blended and smooth. Fold in raisins, crumbled pralines and oats; mix thoroughly. Drop dough by heaping Tbsp., about 3 in. apart, onto prepared cookie sheets. Press by hand or with bottom of glass which has been oiled and dipped in sugar, to an even 1/4-in. thickness.
5. Bake at 350°F until firm, 6-9 min. Rotate pans about halfway through baking to brown evenly. Remove cookies from pans and cool on wire racks.

* Visit www.loveyourraisins.com/recipes/ for more raisin recipes!
Calories: 160;
Total Fat: 7g;
Saturated Fat: 3g;
Cholesterol: 20mg;
Total Carbs: 21g;
Fiber: 1g;
Sugar: 13g;
Protein: 2g;
Sodium: 65mg;
Potassium: 87mg;