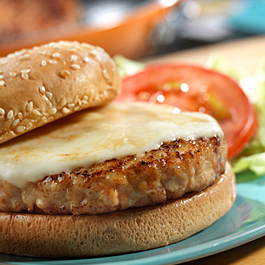 Courtesy of Campbell's® Kitchen
Servings: 4
Prep Time: 10 Min.
Cook Time: 15 Min.
* 1 lb. lean ground turkey
* 1 small onion, finely chopped (about 1/2-c.)
* 2 pkg. Swanson® Flavor Boost™ Concentrated Chicken Broth
* 1/4 tsp. ground black pepper
* 2 Tbsp. canola oil
* 4 slices part-skim mozzarella (about 3-oz.)
* 4 Pepperidge Farm® Sandwich Buns with Sesame Seeds
1. Thoroughly mix the turkey, onion, concentrated broth and black pepper in a medium bowl. Shape the turkey mixture into 4 (1/2-in. thick) burgers.
2. Heat the oil in a 12-in. nonstick skillet over medium-high heat. Add the burgers and cook until well browned on both sides. Reduce the heat to low. Cover and cook until the burgers are cooked through. Top the burgers with the cheese and cook until the cheese is melted.
3. Serve the burgers on the buns.
Calories: 440;
Total Fat: 22g;
Saturated Fat: 6g;
Cholesterol: 94mg;
Total Carbs: 26g;
Fiber: 1g;
Protein: 32g;
Sodium: 827mg;